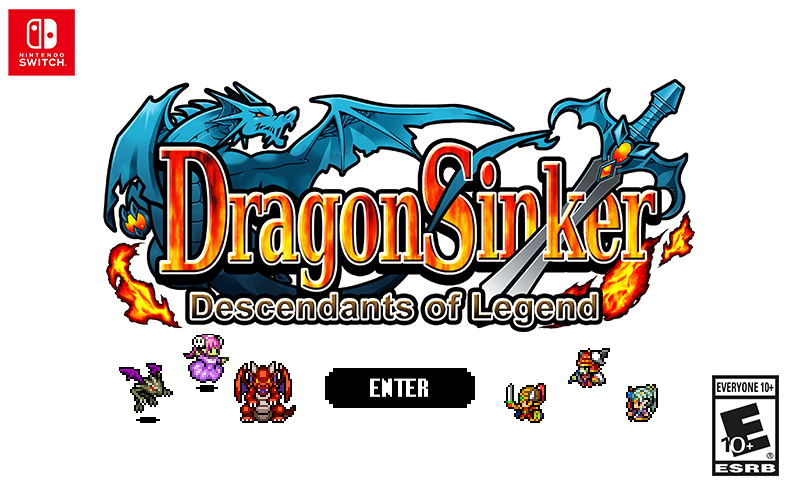 (C)2015-2018
K
E
M
C
O
/
E
X
E
-CREATE
All company names, product names and service names shown are trademarks, registered trademarks or property of their respective owners.
© 2015-2023 KEMCO
A thousand years ago... An evil dragon known as Wyrmvarg suddenly appeared and wrought untold havoc and destruction upon the world.

However, through the courage of a human, an elf, and a dwarf, this destroyer was sealed away deep within the earth.

Following their triumphant victory, these three were hailed as heroes; each of who established a kingdom where they reigned in peace for the remainder of their days.


Nevertheless, after a long season of quietude, Wyrmvarg broke free of the seal, and for the next century the world was once again shrouded in darkness.

Lamenting this, one young man dared to stand forth, determined to bring an end to Wyrmvarg's reign of terror for all time...


Using 8-bit pixel graphics, Dragon Sinker harks back to the golden age of RPGs!
Travel the world while amassing an army of followers and use their unique job skills to slay the evil dragon, Wyrmvarg!

| | | |
| --- | --- | --- |
| | | |
| | With plenty of subquests, extra dungeons, and bosses that will truly test your mettle, Dragon Sinker is everything one would expect from a traditional RPG and more! | |
| | | |

The Lottery can be played using Lottery Tickets or DRP.
Not only can valuable items be obtained this way, but even a number of rare jobs!

Lead up to 12 characters into battle and adjust to any contingency by swapping between 3 customizable teams.
Depending on the team leader, race, and job combination, various advantageous effects for each team will take effect.

Whether human, elf, or dwarf, each race has its own characteristics.
By understanding how team leaders and followers work, teams that deal greater damage to certain monster types, resist parameter-reducing effects, and so on can be created.


As the number of followers increases, so will the types of available jobs.
Depending on job type, the skills that can be used in battle will change. In addition, follower jobs can be changed at any time at the local chapel.

With renowned game composer Ryuji Sasai lending his talents to the score, the world of Dragon Sinker is replete with music that is sure to tug on the nostalgic heartstrings of many retro gamers!

Please click to listen to a music track.

 
Dragon Sinker Theme
 
Adventure Theme
 
Dungeon Theme
 
Battle Theme



Dragon Sinker Theme




  Back
Adventure Theme




  Back
Dungeon Theme


  Back
Battle Theme


  Back
| | | |
| --- | --- | --- |
| | | |
| | Dragon Sinker -Descendants of Legend- Trailer | |
| | | |
Title:Dragon Sinker
       -Descendants of Legend-
Genre:

RPG



OS:

Nintendo Switch(TM)



Click here to play the BGM.
* BGM will also start after 5 seconds.
Race: Human
Gender: Male
Job: Human Prince

Royal prince of the humans. Having a penchant for justice, he is much beloved by his subjects. In order to put an end to the offering of human sacrifices, he takes up his sword and with a duo of loyal followers at his side, sets out to slay Wyrmvarg.

Race: Human
Gender: Male
Job: Priest

Honest to a fault, he is Abram's most loyal follower. Accordingly, he takes any complaints toward who he serves as if they were personally levied against himself. Hence, fights with Mia are inevitable.

Race: Human
Gender: Male
Job: Chevalier

Abram's teacher of swordsmanship. Astute and unequaled in his skill with a blade, he is respected by all the King's soldiers.

However, while attempting to slay Wyrmvarg with Abram...

Race: Elf
Gender: Female
Job: ???

A young woman on a quest to search out the legendary weapons in order to slay Wyrmvarg.
Strong-willed and with more than a few complaints to go around, she is surprisingly kind at heart, and has a strong sense of justice equal to that of Abram.

Race: Elf
Gender: Male
Job: Mage

Mia's trusted companion and confidant. Calm and objective, he has been charged by Mia's father to see to her protection, and the reason he is traveling with her. Like other elves, he has a particular distaste for both humans and dwarves.

Race: Dwarf
Gender: Male
Job: ???

A middle-aged dwarf out in search of quality ore. As one of his kind, he is skilled in the art of forging, and has somewhat of a maniacal passion for weapons. Never in a rush to judge, he is also a great mentor to young Abram and his band of followers.

Race: Dwarf
Gender: Female
Job: Warrior

The wife of Bowen.
Not only an excellent cook and fighter, she is also quite knowledgeable about forging, making her Bowen's indispensable partner. Her cheerful and open personality helps to lighten the mood when those around her become uptight or anxious.

Race: Dragon

The bringer of darkness to the world who has returned with a vengeance after being defeated and sealed away a thousand years ago.

After a failed assault against this evil dragon a hundred years prior, the strength of the elves as a race greatly declined. Seeing this, the humans woefully submitted to Wyrmvarg's demands, and began offering human sacrifices in order to protect their kingdom. As for the dwarves, they sought refuge underground as a way to avoid a similar fate.