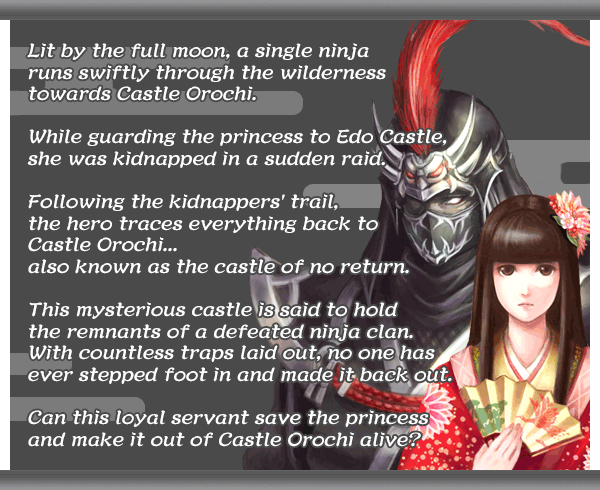 As the protagonist hired to guard the princess, you must enter Castle Orochi to save the abducted princess. No one has ever returned after entering this mysterious castle.
Solve the puzzles, overcome traps, and defeat all foes to save the princess and escape!
▲Back to Top
【1】 Menu
Opens the menu view.
【2】 Cursor Field
Shows the selected cursor format.
【3】 Item Field
Obtained items are displayed here.
Tap to open the item menu, and view item details by tapping the move icons to switch between items. You can combine similar items from the detail screen, and select and use items for certain parts (keys/locks) of rooms.
【4】 Cursor (or Lantern)
Move with the directional buttons, and investigate with the confirm button.
【5】 Message Window
Messages are displayed here.
【6】 Move Icon
Point of view shifts with the direction pressed.
There may be one screen that does not display these icons depending on the part.
▲Back to Top

The first step to escaping is to search and investigate all the nooks and crannies of a room.
Looking into the same places more than once could lead to new discoveries.
There may be items you obtain that are not related to escaping, but can affect your mission success rate, so keep that in mind. Can you complete your mission to save the princess...?
▲Back to Top

You can switch between cursors anytime during gameplay.
Arrows will appear anywhere you touch - (4 way) cursors to select spots by drag & drop, and a cursor to pull/move by dragging the arrow. Investigation is made easy with these 5 cursors.
▲Back to Top